Antón Santamarina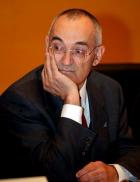 Antón-Luís Santamarina Fernández (A Fonsagrada, 1942) is a professor of Romance Philology. He has been the secretary (1974-1986) and director of Verba (2010-2012), vice-president of the Consello da Cultura Galega (1992-1997), and secretary (1976-1991), acting director (1991) and director of ILG (1993-2004). He has been secretary of the Galician Government's Toponimia Committee since 1979, and a permanent member of the Real Academia Galega since 1998.
Santamarina Fernández's research interests include different areas of Galician linguistics. In the field of grammar, he has published important studies on gheada, the verb, and the adverb and conjunctions que and ca. In corpus planning, he participated in the preparation of spelling and morphological rules following the ILG proposals (Bases, 1977) and those of RAG-ILG (1982 rules, revised in 1995 and 2003), worked with M. Gonzalez on the lexical choices for VOLGA and advocated the incorporation of the so-called external varieties into the Galician literary standard. In dialectology, he directed the Atlas lingüístico galego jointly with C. Garcia, with several volumes published and others forthcoming. He has also taken an interest in the social situation and historiography of the Galician language, as well as etymology, teaching and proper names.
Santamarina's main field is lexicography: he has published Diccionario de diccionarios and is the director of TILG. He is currently contributing to the compilation of the Academy's dictionary with the help of this corpus.
Latest publications
Antón L. Santamarina Fernández (2015): En memoria de tanto miragre. Estudos dedicados ó profesor David Mackenzie, Francisco Dubert García / Gabriel Rei-Doval / Xulio Sousa (eds.), Santiago de Compostela: Servizo de Publicacións e Intercambio Científico da Universidade de Santiago de Compostela, 201-212 – Book chapter
"As normas ortográficas e morfolóxicas do '82 e o estándar galego actual"
Antón L. Santamarina Fernández (2012): Simposio ILG 2012: Un galego común, fiel a si mesmo. Trinta anos de estandarización: 1982-2012, Santiago de Compostela, 11-20 de decembro de 2012 - Conference Paper
Ernesto X. González Seoane / Antón L. Santamarina Fernández / Francisco Xavier Varela Barreiro (2009): Santiago de Compostela: Instituto da Lingua Galega / Consello da Cultura Galega - ILG publication
Projects in which he participates
Latest publications
"A Gramática de Saco no contexto da emerxencia destes estudos no seu tempo"

Antón Santamarina

(

2018

): Homenaxe a Juan Antonio Saco Arce. 150 aniversario da publicación da Gramática gallega

, Ourense, 22 novembro 2018

- Presentación

Ernesto X. González Seoane / Antón Santamarina

(

2017

): LaborHistórico

, 3, 1 - xan./xuñ. 2017, 149-163

- Artigo

Antón Santamarina / Francisco Fernández Rei

(

2015

):

Fundación Barrié / Servizo de Publicacións da Universidade de Santiago de Compostela

- ILG publication
Proxectos nos que participa