Conferencia sobre política lingüística familiar no ILG
Data:
Friday, September 15, 2017 - 15:45
Imaxe: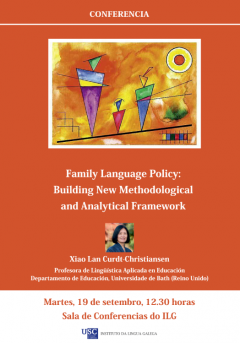 A doutora Xiao Lan Curdt-Christiansen impartiu a conferencia Family Language Policy: Building New Methodological and Analytical Framework o martes 19 de setembro ás 12.30 h na Sala de conferencias do ILG.
A doutora Xiao Lan Curdt-Christiansen é catedrática de lingüística aplicada no Departamento de Educación da Universidade de Bath (Reino Unido). Especialista nas áreas de multilingüismo, glotopolítica, política lingüística familiar, análise de discurso, etnografía e aprendizaxe das segundas linguas. Os seus últimos libros son: Learning Chinese in Diasporic Communities (con Andy Hancock, publicado por John Benjamins); e Language, Ideology and Education: The Politics of Textbooks in Language Education (con Csilla Weninger, publicado por Routledge). Tamén é autora de diversas publicacións científicas en revistas prestixiosas como Language Policy;International Journal of Bilingualism and Bilingual Education; Journal of Multilingual and Multicultural Development; e Language and Education, entre outros.